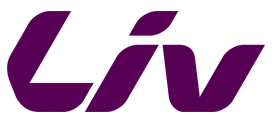 Amiti E+ 1
Electric Bike
€3,250 Original price €3,799
Available sizes: S, M
Only in store
Take control of your lifestyle and rediscover your sense of adventure with reliable comfort that takes you through the city and beyond.
Key Performance Factors
Versatility
Access to new roads and experiences is easily within reach thanks to the 180-215 km* furthest range of the reliable EnergyPak Smart battery. The SyncDrive Sport motor, co-developed with Yamaha, delivers 70Nm of torque and has six speed control settings ranging from 75-350% pedal assistance. Powerful disc brakes make variable terrain, from hilly city commutes to windy country roads a non-issue. *Variations may depend on several circumstances including weight, elevation, terrain, acceleration etc
Integrated Design
The reliable and easy-to-access EnergyPak Smart is beautifully integrated into a lightweight and durable ALUXX SL-Grade aluminium frame, designed and tuned for women using Liv's 3F Design Philosophy for a bike that zips along on longer adventures. Integrated dropouts make adding accessories easy, and paired with fenders, rack, and an integrated light on the head tube, Amiti E+ is ready for comfortable commuting or awe-inspiring point-to-point treks.
Comfort
Smart Assist Technology smooths out bumps, and the ergonomic RideControl Ergo series handlebar controls make adjusting pedal assist simple. A suspension fork, all-terrain capable tires, and sloping top tube with low standover height specifically developed for women turns Amiti E+ into a comfortable adventure ride.
Range
How far can I expect to ride on a single battery charge?
The range for a single battery charge can vary greatly depending on conditions such as the combined weight of the rider and cargo; wind resistance; tyre pressure and tread profile; terrain and elevation changes; road or trail surface; outdoor temperature; maintenance of the E-Bike; and the condition of the battery.
The bar below gives an approximate range. Conditions are categorized as extreme, good and ideal. Extreme conditions typically occur when riding with a heavy load, strong headwinds or excessive climbs.
EnergyPak 500 / SyncDrive Sport
Range
Extreme:

52 km

32 miles

Good:

105 km

65 miles

Ideal:

175 km

108 miles
Why We Love It
Set your sights farther and fit more awesome in your day with the motor-assisted Amiti E+. Using Liv's 3F Design Philosophy, Amiti E+ was designed for a woman's comfort and taste. The bike provides a lower standover height, making getting on and off the bike easy. Amiti E+ is equipped with a solid braking system for loyal traction, plus fenders and tubeless tyres for optimal comfort and safety. The RideControl remote unit lets you check battery level, turn on the front headlight, and comes with a Smart Assist button that kicks in an extra smooth and natural ride feel. Amiti E+ offers five levels of assistance for speed control, which adds 50%-350% of your power to your pedal stroke. This bike makes traveling through city streets and rough country roads a pure delight.
3F Design Philosophy
Designed using Liv's 3F Design Philosophy to maximize women's muscle performance and efficiency
ALUXX SL Aluminum Frame
Lightweight aluminum frame made in Giant's own industry-leading aluminum manufacturing facility contributes to weight reduction and a quick, agile feel
Front Suspension
Front suspension smooths out terrain for a more comfortable ride.
Disc Brake Equipped
For precise braking and control in all terrain and variable weather conditions
Rack Mounts
Equipped with integrated dropouts to make adding accessories easy. Rear rack and fenders to make commuting a breeze
Tubeless Ready
Tubeless-ready tires allow for more confident commuting, enabling the rider to run lower pressures for traction and comfort without fear of flats
Integrated Lights
Integrated DayLight on the headtube increases safety while riding in traffic, while the integrated night light makes early or late evening commutes possible
SyncDrive Sport Motor
Ideal for riders seeking a do-it-all E-bike, the SyncDrive Sport motor nails it when it comes to trail riding and trekking needs alike. With 70 Nm of torque providing support up to 140 rpm, the SyncDrive Sport motor delivers high power even at low speeds
Smart Assist Technology
Enjoy seamless acceleration and power boost. The Smart Assist Technology system replicates a natural riding style, using the six sensors to add assistance exactly when needed.
EnergyPak Smart
E nergyPak Smart battery is smoothly incorporated into the bottom of the downtube to create a streamlined look and a compact profile that closely matches the design of standard bikes
RideControl Ergo
RideControl Ergo takes your E-bike riding experience to new levels with smart integration buttons for clean and simple handlebar controls. Ergonomic and accessible while riding, easy-to-push buttons let you select your power mode and Walk Assist.
All specifications listed are subject to change without notice.